1917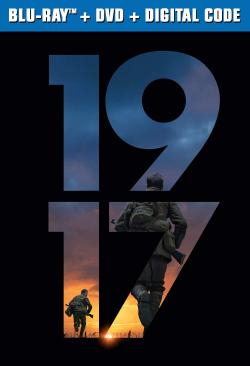 After experiencing Sam Mendes' true masterpiece, "1917," a fourth time — this time on the home HDTV screen — I am even more confounded that it did not win the Oscar for Best Picture. And, yet, perhaps I shouldn't be that surprised since the best film of any year is rarely, if ever, chosen by the Academy as such (and I will be the first to admit just how subjective notions of 'best' can be). Suffice to say that the most significant and groundbreaking cinematic achievements usually lose the top award. Recent examples include, "The Social Network," "The Wolf of Wall Street" and "Dunkirk" —heck, "Carol" wasn't even nominated! And because I love "Parasite" so much it's hard to be angry, but I can still be distressed.
"1917" is a film about survival, something we are all too well acquainted with right now. It's a film that shows just how the heroic efforts of those who came before us forged the freedoms we take for granted today. And, yes, the film's focus is on white males, because they're the ones who fought in the First World War. (And if that's anyone's misguided issue with this film, then it's pointless to argue).
Director/co-writer Sam Mendes ("American Beauty," "Skyfall") and his superlative team tell the story (based on factual events told to Mendes by his grandfather, and co-written by Krysty Wilson-Cairns) of two young British soldiers fighting in the trenches of World War I (Dean-Charles Chapman & George MacKay) who are given an absolutely impossible task: To deliver a message that will stop a potentially devastating attack the Germans have planned for the Brits. To avoid this massacre, the soldiers must brave the elements on foot.
The film famously takes the audience on this beguiling odyssey via one seemingly long take.
Peppered with brief but powerful turns by Colin Firth, Andrew Scott, Mark Strong, Benedict Cumberbatch, and Richard Madden, "1917's" anchor is MacKay, who is simply astonishing as the reluctant hero. What he does here is so much more than an actor relying on easy tricks. His emotions are registered all over his face — which could be the face of every Englishman.
In a particularly poignant scene in the final third of the film, MacKay's character, Schofield, has just miraculously washed up on a river shore amidst corpses of dead soldiers and begins to openly weep. He has survived when so many have not. And the breakdown gives him the strength he will need to move forward. Later, in another pivotal sequence, that strength manifests itself in a wondrous and bold act of courage that stands in the pantheon of great cinematic moments and transforms the initially ambivalent young soldier.
For those who love movies and crave an opportunity to immerse themselves in a completely captivating filmic journey that is both intimate and universal and ultimately transcendent, this is the film to watch. The Blu-ray does this hypnotic treasure the justice it deserves with the glorious and often astounding visuals popping, only to be matched by a dynamic audio transfer.
Special Features include five mini-docs (approximately 38 minutes total) that delve into almost every aspect of the filmmaking, from the amazing score to the magnificent cinematography to the underrated (and genius) editing. In addition, we become privy to how the script was written and learn about the groundbreaking technology developed specifically for the film. We are also told why Mendes wanted virtual unknowns for the two leads, and why MacKay and Chapman were cast.
Also, included are also two feature commentaries. The first is with Mendes, who provides a richly detailed, all-encompassing track where he hits on intriguing specifics. He confesses he never saw the project as a one-shot film but intended it to be "a movie with no cuts, no way out." His fascinating tidbits only serve to enhance the viewing experience.
Oscar-winning cinematographer Roger Deakins provides a more technical second commentary track that could easily act as a master class for budding DPs out there.
Clearly a labor of love all around, "1917" isn't just a nail-biting war movie, it's a vital and timeless account of heroism and a depiction of humanity at its most desperate yet hopeful. We need stories like this one, especially now.

"1917"
Blu-ray + DVD + Digital Code
$22.99
https://www.uphe.com/movies/1917
Frank J. Avella is a film and theatre journalist and is thrilled to be writing for EDGE. He is also a proud Dramatists Guild member and a recipient of a 2018 Bogliasco Foundation Fellowship. He was awarded a 2015 Fellowship Award from the NJ State Council on the Arts, the 2016 Helene Wurlitzer Residency Grant and the Chesley/Bumbalo Foundation Playwright Award for his play Consent, which was also a 2012 semifinalist for the O'Neill. His play, Vatican Falls, took part in the 2017 Planet Connections Festivity and Frank was nominated for Outstanding Playwriting. Lured was a semifinalist for the 2018 O'Neill and received a 2018 Arch and Bruce Brown Foundation Grant. Lured will premiere in 2018 in NYC and 2019 in Rome, Italy. LuredThePlay.com
Comments on Facebook