Elton John: 'Magic and Joy Were Lost' in Lion King Remake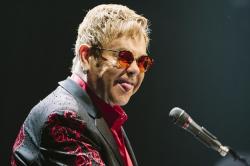 Elton John, co-writer of the chart-topping 1994 "Lion King" soundtrack, called the new 2019 version a "huge disappointment" in an interview with GQ. Though he was called into the studio briefly by Disney for help adapting some original songs for the new soundtrack, he lamented his lack of involvement this time around.

"The new version of 'The Lion King' was a huge disappointment to me because I believe they messed the music up," John said to GQ. "Music was so much a part of the original and the music in the current film didn't have the same impact. The magic and joy were lost."

John and lyricist Tim Rice contributed one new song to the film, "Never Too Late," and he appeared at the premiere in London, but his involvement overall was limited.

"I wish I'd been invited to the party more, but the creative vision for the film and its music was different this time around and I wasn't really welcomed or treated with the same level of respect. That makes me extremely sad. I'm so happy that the right spirit for the music lives on with the 'Lion King' stage musical."

John's dim opinion of the 2019 "Lion King" was shared by many. Huffington Post reports "John isn't alone in his assessment. Though 2019's "Lion King" raked in more than $1.6 billion at the worldwide box office, reviews of the film were mixed." Slate agrees, writing: "Beyoncé's "Lion King" album is the event the movie wishes it could be... Indeed, it works best if you forget the remake even exists."

Additionally, Stephen, one of the original animators for 1994's "Lion King" told NME: "If you polled the crew of the original 'Lion King,' most of them would say, 'Why? Did you really have to do that?' It kind of hurts."

Elton John is currently promoting his new autobiography, "Me" co-written with former GQ music editor Alexis Petridis. The book released on October 15.
Comments on Facebook