The Report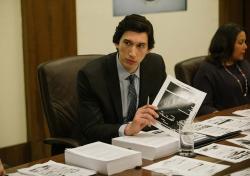 Scott Z. Burns takes a cue from Alan J. Pakula's "All the President's Men" and Steven Spielberg's "The Post" with his engrossing thriller, "The Report," in keeping the narrative focused on the search for truth and not letting it get muddied by character backstory deviations. The protagonist here, though, is not a journalist; rather, he's United States Senate Intelligence Committee staffer Dan Jones (Adam Driver), who is asked by Senator Dianne Feinstein (Annette Bening) to put together a report on the CIA's post-9/11-created Detention and Interrogation Program.

Jones begins to uncover insane findings and cover-ups about the CIA's use of torture on prisoners, including water boarding and other enhanced interrogation techniques (EITs) that were supposed to cause "learned helplessness." Despite the fact that these harsh treatments don't work, the CIA continued to administer them over and over again. "If it works, then why do you need to do it 183 times?"

After the thriller-like race to gather information, Jones finds that the new (Obama) administration would rather most of the findings be kept secret than exposed, which puts Feinstein in an awkward political position.

Just how much of the initial ginormous report will be censored and redacted? Will any of it see the light of day?

Burns, who wrote the screenplays for many a Steven Soderbergh film ("The Informant!," "Contagion," "Side Effects"), has crafted a smart, docu-style pot-boiler ripped from recent headlines that feels like it happened decades ago thanks to the new Trumpian manner of daily crimes being committed and then exposed without any justice being served. The movie hearkens back to a time when partisanship meant something, and has tremendous relevance today, reminding us that our country has forever been involved in dirty deeds.

But this is no truth-triumphs-over-corruption tale. Rather, it's an indictment of the CIA as well as two administrations (including Obama's) that would rather cover things up than admit that the U.S. behaved in an unconscionable manner that borders on war crimes.

Driver, who is assured an Oscar nomination for his searing work in "Marriage Story," is perfectly cast as the intelligent, outraged and seemingly fearless Jones, who makes exposure his personal mission.

Bening is an understated Feinstein, playing the game of politics carefully as she must. Bening delivers glimpses of the Senator's anger, upset and actual surprise at her government's failings. It's not a showy performance as much as it's a fitting one. Bening's Feinstein walks that fine line politicos apparently must walk in order to accomplish anything in Washington. It's frustrating to watch.

The rest of the cast, which includes Corey Stoll, Jon Hamm, Ted Levine and Michael C. Hall, is uniformly good.

"The Report" can feel bleak at times since it exposes the futility of earnestness and idealism when it comes to the powers that be and their essential desire to control things and remain in power. But it's important storytelling because it also provides specks of hope that sometimes the truth wills itself out when it's given galvanized shoves by those who still give a damn — even in a democracy that's gone to hell.
Frank J. Avella is a film and theatre journalist and is thrilled to be writing for EDGE. He is also a proud Dramatists Guild member and a recipient of a 2018 Bogliasco Foundation Fellowship. He was awarded a 2015 Fellowship Award from the NJ State Council on the Arts, the 2016 Helene Wurlitzer Residency Grant and the Chesley/Bumbalo Foundation Playwright Award for his play Consent, which was also a 2012 semifinalist for the O'Neill. His play, Vatican Falls, took part in the 2017 Planet Connections Festivity and Frank was nominated for Outstanding Playwriting. Lured was a semifinalist for the 2018 O'Neill and received a 2018 Arch and Bruce Brown Foundation Grant. Lured will premiere in 2018 in NYC and 2019 in Rome, Italy. LuredThePlay.com
Comments on Facebook