The Unicorn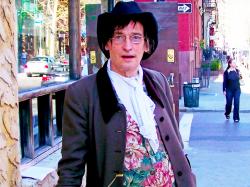 Isabelle Dupuis and Tim Geraghty's documentary about Peter Grudzien is an oddity, but then so was Grudzien, the creative force behind the 1974 self-produced and self-published LP "The Unicorn," one of country music's first albums to feature an openly gay artist addressing themes of concern to the LGBTQ community.

The doc is surprisingly sketchy when it comes to Grudzien's music and career; though it's musically illustrated with selections from "The Unicorn," the film doesn't touch upon his other contributions. That same haziness applies to his personal life, at least before the time of the doc's filming, in the mid-2000s. Did Grudzien ever have a significant other? What were his professional connections and collaborations like? We hear about his association with Brooklyn country recording act The Pell Brothers (he wrote the lyrics for some of their songs), but none of that is the film's focus.

What is focused on, though, is Grudzien's family life. He lived crammed into a small house in Astoria with his elderly father, Joseph, and sister Terry. At the time, Joseph was approaching the ripe old age of 100; Peter and his sister were somewhere around their sixties, with Pater still seeming quite vibrant and Terry striking a hopeful note that she might meet a handsome man to call her own. The house itself used to belong to Peter's grandparents; Joseph inherited it after that died, and with Joseph coming up on the century mark it seems not unreasonable to suppose that Peter and his sister will inherit the house in turn.

Except for one thing: Joseph has no will. Moreover, the city keeps sending people around to check on him and to ascertain whether he is capable of living on his own. When family members suggest that it might be time for Joseph to enter assisted living - and Peter to relocate, as well - Peter puts up stiff resistance.

The film feels as claustrophobic, sometimes, as the house itself, which is crammed with electronics, memorabilia, and the accrued belongings of several lifetimes. But it's the center of the universe for Peter and his kin - so much so the when Terry suffers a fall in the street, breaking her leg and needing a few weeks of hospitalization, her first thought is to fret over the possibility that someone might go into her room and mess with her stuff. (It's not unfounded; as it happens, Peter makes use of her time away to give a friend a place to crash for a while.)

While the film sometimes feels like it's teetering on the edge of some sort of "Gray Gardens" style horror show, the eccentric members of the household grow on you - so much so that when one tragedy and then another strikes, you can't help but feel for them. At the same time, however, their existence seems so precarious that it certainly cannot continue in the same vein. When, at a certain point, the film takes a five-year-jump into the future - a gap that's filled in with Peter's home movies - a different image emerges: That of an artist whose existence is, in some respects, hermetic, and yet, strangely, complete.
Kilian Melloy serves as EDGE Media Network's Assistant Arts Editor. He also reviews theater for WBUR. His professional memberships include the National Lesbian & Gay Journalists Association, the Boston Online Film Critics Association, The Gay and Lesbian Entertainment Critics Association, and the Boston Theater Critics Association's Elliot Norton Awards Committee.

This story is part of our special report titled "aGLIFF 2019." Want to read more? Here's the full list.
Comments on Facebook