Paris Is Burning (Restoration)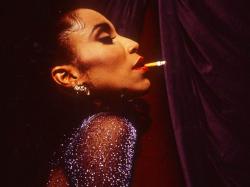 The first time I watched "Paris is Burning," I saw it so that I could understand my obsession of the moment: A small reality television show called "RuPaul's Drag Race." I got those connections, but I also got to see and hear queer folks of color in a bygone New York City that I had heard of but never experienced until then. I come from a big small town, big enough for a Wal-Mart, and the kind of place where everyone knew everyone. Eventually, anyone who was a queer person would have to leave for a big city at some point. Queer kind, my kind, didn't really have a place in a big small town.

Enfolded in a dark era of Manhattan nightlife, the larger than life personas of Willi Ninja, Venus Xtravaganza, Pepper LaBeija, and Dorian Corey glowed with bravado. They were the kind of queer folks I thought I would never be: Clever, sassy, and comfortable with being different. The nighttime ball scene world beckoned to me in contrast to the daytime's uber-straight, uber-white city. I had never before seen a movie that didn't sensationalize queer people. I felt certain that the director was - as I was while watching - captivated and just a little bit in love with each person.

Most of the elders in the documentary have passed on. Quite a lot of their struggles are still a part of the current queer landscape: Lack of queer-friendly and HIV-aware healthcare, violence against trans and queer folks, and homelessness.

"Paris is Burning" has allowed creatives to reimagine the era and the feeling of the ballroom scene within TV shows like "Pose," as well as inspiring the current ballroom scene and scenes that aren't just in New York City.

Fifty years of pride is being celebrated in New York City during World Pride this month. We are fortunate that "Paris is Burning" is now remastered. There is so much progress that has happened over the past five decades, and we will need to be able to look back on the past even when we won't have access to film projectors and reels. We will need to know that even in the lowest circumstances we will be able to be together, to glimmer and twirl and enjoy life even for just a little while.
Paris Is Burning
This documentary focuses on drag queens living in New York City and their ''house'' culture, which provides a sense of community and support for the flamboyant and often socially shunned performers. Groups from each house compete in elaborate balls that take cues from the world of fashion. Also touching on issues of racism and poverty, the film features interviews with a number of renowned drag queens, including Willi Ninja, Pepper LaBeija and Dorian Corey.
Info
Runtime :: 78 mins
Release Date :: Mar 13, 1990
Language :: Silent
Country :: United States

Cast
Crew
Director :: Jennie Livingston
Producer :: Jennie Livingston
Producer :: Barry Swimar
Cinematographer :: Paul Gibson
Film Editor :: Jonathan Oppenheim

Noe Kamelamela is a reader who reads everything and a writer who writes
very little.
Comments on Facebook