Top Story
Tony nominated actor Max Von Essen feels a strong attachment to the songs from the Great American Songbook & classic Hollywood musicals, and has channeled it into his first CD, &qu...
1 thru 10 of 13578 Stories
Emerson Colonial Theatre announces an evening of conversation with Christopher Markus and Stephen McFeely, the top screenwriting team behind the final two "Avengers" films and the "Captain America" franchise.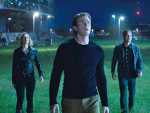 The final chapter in the "Avengers" story (as we know it) is inventive, surprising, sometimes confusing, but always emotionally satisfying. These are the characters we know and love, and the Russo Brothers have done them justice.
A quirky Japanese tale about family.
Arrow Video releases this cult favorite for those fans that know about the late '80s offering.
Writer-director Darko Stante's film deals with troubled young men being institutionally warehoused in ways that do little to reform or even restrain them - and carries a potent gay sting in its tail.
This is an affectionate portrait of an octogenarian Broadway producer who is unknown outside the theatre world. It's a sheer delight.
A very dark coming-of-age story in which a teenage boy is torn between being exploited by his pedophile priest and his demanding, machismo father.
When Ramin escapes Iran where is persecuted for being gay, he ends up in Veracruz — where he still feels he cannot be himself.
Hollywood's powerhouse gay glitterati are throwing their support to Mayor Pete's candidacy, with none other than Ryan Murphy set to host a fundraiser for him in June.
There were more than a few sniffles from the audience at the premiere of "Avengers: Endgame" Monday night in Los Angeles, which Chris Evans and Chris Hemsworth proudly admitted contributing to.
1 thru 10 of 13578 Stories