Barbie has been many things over the years. Now, she's dressed as Ziggy Stardust.
The New Republic published, then pulled, an op-ed piece by out writer Dale Peck after a widespread public outcry and accusations of homopobia, it was reported by Talking Points Memo.
Several weeks after publishing explosive reports about a key member of Brazil's far-right government, U.S. journalist Glenn Greenwald was called before a congressional committee to face hostile questions.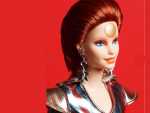 Barbie's now living in a Bowie world, at least for a limited time. Mattel has announced a limited edition Ziggy Stardust-themed Barbie in honor of the 50th anniversary of the David Bowie classic "Space Oddity."
Visitors to the pop-up can take quirky photos and view interactive "artwork."
There wasn't a crinoline in sight as 850 square dancers at the International Association of Gay Square Dance Clubs opened its annual convention last week in a Philadelphia hotel.
President Trump is on a Twitter tirade ahead of his White House "Social Media Summit" gathering of mostly conservative groups.
Volkswagen is halting production of the last version of its Beetle model this week at its plant in Puebla, Mexico. It's the end of the road for a vehicle that has symbolized many things over a history spanning the eight decades since 1938.
Not long after it was reported that the gay dating app Jack'd agreed to pay $240,000 for failing to protect users' information, including nude photos, the gay dating app Scruff announced Wednesday that it is purchasing Jack'd.
President Donald Trump can't ban critics from his Twitter account, a federal appeals court ruled Tuesday, saying the First Amendment calls for more speech, rather than less, on matters of public concern.