1 thru 10 of 7335 Stories
Aaron Schock is back in the news for being photographed at a LA gay hang out with a Speedo-clad companion.
Kristin Chenoweth has been declared "Queen of the High C's" and VACAYA's godmother, along with Katharine McPhee, Leslie Jordan, Alex Newell, and Lesli Margherita headlining the inaugural August cruise.
Elle Fanning says she fainted at a Cannes Film Festival dinner because he dress was too tight.
"This Is Us" star Milo Ventimiglia learned firsthand what the Red Nose Day's fundraising campaign means to children in need, and he's eager to spread the word.
As the Cote d'Azur extravaganza has unspooled over the last week, photographer Petros Giannakouris has focused his camera lens on the smaller fashion details of the festival's famed red carpet.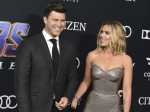 Wedding bells are in the future for actress Scarlett Johansson and Colin Jost of "Saturday Night Live."
A large sign warns motorists that Iceland's Fjadrárgljúfur canyon is closed to visitors but drivers keep on coming down the narrow gravel road. A ranger has to explain why no one can pass: The vulnerable landscape cannot sustain more visitors.
Actor Arnold Schwarzenegger was assaulted during a public appearance in South Africa on Saturday, but the 71-year-old appeared to quickly recover and say "I'm just glad the idiot didn't interrupt my Snapchat."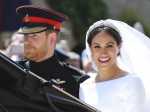 It's been an eventful first year of marriage for Prince Harry and the former Meghan Markle, now known formally as the Duchess of Sussex.
Alex Rodriguez has four bathrooms in the $17.5 million apartment he shares with Jennifer Lopez. This week he made the mistake of sitting in the wrong one.
1 thru 10 of 7335 Stories