Top Story
Singer Elton John says he's "deeply distressed" by media accounts that criticized the Duke and Duchess of Sussex for taking a private jet to go on vacation despite t...
North Shore Music Theatre (NSMT) announced complete casting for the upcoming production of Andrew Lloyd Webber's masterwork, "Sunset Boulevard", which stars the previously announced Alice Ripley as the fading Hollywood star, Norma Desmond.
The definition of a "bloody good time," "Ready or Not" examines how far the rich will go to maintain their wealth... even at the expense of the less fortunate.
Regardless of her reputation as a performer, Aretha Franklin's cancer doctors say she was no diva as a patient.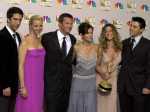 See your "Friends" on the big screen. Deck out your place with "Friends" furniture. Wear your "Friends" as jewelry. Heck, buy the "Friends" Lego set and pretend it's for your kid.
The 25th James Bond movie has a title: "No Time to Die."