Gay New York City: The Latest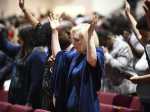 By now, most Democratic presidential candidates have polished their stump speeches. But when they're in South Carolina, they may need to add in a sermon.
President Donald Trump lashed out Friday at current and former aides who cooperated with special counsel Robert Mueller's investigation.
The legal threat to Trump that seemed so dangerous upon Mueller's appointment in May 2017 has waned.
Police in Northern Ireland on Saturday arrested two teenagers in connection with the fatal shooting of a journalist during rioting in the city of Londonderry.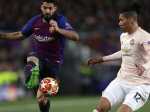 Social media companies did not appear to respond on their networks to the players' concerns despite widespread coverage and support from FIFA for the boycott.
Kentucky's lightning-rod governor also has run the risk of firing up Democratic voters heading into the November general election.
French yellow vest protesters set small fires as they marched through Paris on Saturday to drive home their latest message to the government: That rebuilding the fire-ravaged Notre Dame Cathedral isn't the only problem the nation needs to solve.
A promotion around the movie "The Curse of La Llorona" using traditional Mexican healers for "spiritual cleansings" before screenings of the horror film is drawing strong criticism from healers and scholars who say the stunts are offensive and demeaning.
A Florida man unleashed threatening rants over the phone against three Democratic members of Congress, as he raged against gun control, illegal immigration, homosexuals, black people and Muslims, authorities said.
Attackers stormed a hospital at the epicenter of Congo's Ebola outbreak and killed "a dear colleague," the head of the World Health Organization said Friday as he condemned the latest violence against health workers trying to contain the virus.
The Cook County state's attorney says she won't comment further on the Jussie Smollett case in Chicago until a county inspector general finishes his review of prosecutors' decision to drop charges against the "Empire" actor.
New York City, NY
For the 27th time, the dancers of the Pennsylvania Ballet will perform their annual "Shut Up and Dance benefit concert for MANNA" (Metropolitan Area Neighborhood Nutrition Alliance this Saturday night.
Few coming of age films offer the emotional range and stark choices this one does, and in the film's young star, Junior Bejar Rocaco, Alvaro Delgado Aparicio has just the sort of remarkable talent he needs to pull it off.
Potheads have for decades celebrated their love of marijuana on April 20, but the once counter-culture celebration that was all about getting stoned now is so mainstream Corporate America is starting to embrace it.
PTSD is common, affecting 8% of the U.S. population, up to 30% of the combat exposed veterans, and 30%-80% of refugees and victims of torture. Brain scans can help us understand how the brain is structurally affected, but is not diagnostic.
Don't let any of these myths prevent you from making the most of available travel rewards.
Auto shows may be waning in importance as companies find other ways to introduce new products, but the New York International Auto Show still has a healthy list of new vehicle debuts.
Polo Ralph Lauren is reimagining its iconic Polo shirt with Mother Nature in mind. Introducing The Earth Polo, crafted from thread derived entirely from recycled plastic bottles and dyed in an innovative process that uses zero water.
EDGE turned to our community of more than 200,000 Facebook followers and asked what artists and songs give you inspiration. The response was overwhelming! Here are some of your favorite picks.
Many if not most Americans have never crossed the U.S. border with Mexico by land or spent any time in that region. This unfamiliarity can make it easy for politicians to distort what's going on. Immersion travel is one solution.
DJ Brent Covington and DJ Taffy hosted a busy night at FUZZ @ The Alley Bar last Friday night. Check out who was there.