PrideFest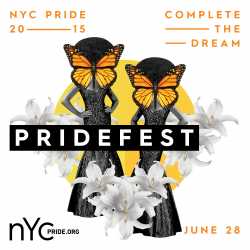 When:
Sunday June 25 at 11:00AM

Where:
Hudson St. btwn Abingdon Sq. & W. 14th St.

Visit Website Buy Tickets
About:

PrideFest, which will be going into its 24th year in 2017, is our annual LGBT street fair that combines vendors, entertainers and activities for a day of fun and celebration in the name of equality. PrideFest attracts thousands of out-of-state visitors and brings them together with local residents and families, corporate sponsors, community leaders, and local business owners.

Round out your Pride experience with a trip to PrideFest. It's the perfect place to stop to listen to a few tunes, grab a bite to eat, or score some great Pride gear. And the best part is, attendance is totally free!

VIP Tickets will be back for 2017! While the event is still free and open to the public, we are providing a VIP option for those that want a premium experience. VIP tickets will go on sale in early 2017.