Pariah
Sometimes great acting can take a well-made film and make it excel. This is what happens with the alternately charming and upsetting new drama, "Pariah." Written and directed by Dee Rees, the movie tells the coming-of-age story of Alike (Adepero Oduye) - pronounced A-lee-kay - a closeted lesbian from Brooklyn with a controlling mother (Kim Wayans) and a work-a-holic father (Charles Parnell). Along with her gay best-friend Laura (Pernell Walker), Alike is well versed in how to hide her more masculine ways of acting and dressing. Every day she carries around an extra set of clothes that she changes into at school, and is forever lying about where she is going. A night at the movies, for example, is really a night out at a strip club.

Alike is a gifted writer and student whose teacher pushes her to go deeper with her work. Her sister Shoronda (Sahra Mellesse) is aware of her sister's truth, but keeps it to herself. Meanwhile, mom Audrey is aware too, but doesn't know how to handle it. She's so fearful of her daughter's true identity, in fact, that she goes out of her way to buy her more girly clothes and to get her to hang around less than "dyke-y" friends.
One such set up is with the Bina (Aasha Davis) the daughter of a co-worker. The two are forced to walk to school together and have play dates - which is annoying at first - but it soon becomes apparent that sweet little Bina might not be the straight momma's girl she likes to portray. This causes Alike to fall hard, which will have devastating - as well as enlightening - consequences.

The nice thing about "Pariah" is that it isn't about a girl accepting whom she truly is which has been told many times. It's about a girl trying to find the right way to tell her parents what her reality is. She's already accepted that she's a lesbian and that she prefers a more masculine way of dress. And she's fine with it. Her issue is with the fear that her parents will push her away. The outcome of their finding out is the ticking clock in the story; how Alike deals with the aftermath is the theme.

Adepero Oduye is terrific as Alike - fully embodying her character's joy and fear in equal measure. The real surprise though is Kim Wayans who has only really done comedy along with her famous brothers. Here she creates a woman that tries to be strong while her world falls apart. Not only is she losing the daughter she wanted to have, she might be losing her husband as well. This stress causes not only inappropriate reactions to her daughters blossoming as an out lesbian, but also an overwhelming sadness that makes her an embittered woman.

Dee Rees gives "Pariah" a gritty, close-up look that befits the setting and intensity of the piece. She has gathered an ensemble of amazing actors and has crafted a film that is both heart wrenching and poignant. There is a hope here, even when it doesn't have the perfect Hollywood ending. And for Alike, that's quite all right.
Pariah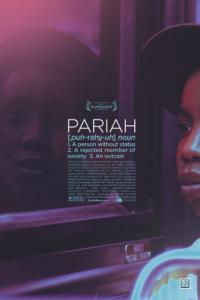 Teenage Alike (Adepero Oduye) lives in Brooklyn's Fort Greene neighborhood with her parents (Charles Parnell, Kim Wayans) and younger sister (Sahra Mellesse) . A lesbian, Alike quietly embraces her identity and is looking for her first lover, but she wonders how much she can truly confide in her family, especially with her parents' marriage already strained. When Alike's mother presses her to befriend a colleague's daughter (Aasha Davis), Alike finds the gal to be a pleasant companion.
Info
Runtime :: 86 mins
Release Date :: Dec 28, 2011
Language :: Silent
Country :: United States

Cast
Alike :: Adepero Oduye
Laura :: Pernell Walker
Bina :: Aasha Davis
Arthur :: Charles Parnell
Sharonda :: Sahra Mellesse
Audrey :: Kim Wayans
Candace :: Shamika Cotton
Mack :: Ray Anthony Thomas

Crew
Director :: Dee Rees
Screenwriter :: Dee Rees
Producer :: Nekisa Cooper
Executive Producer :: Spike Lee
Executive Producer :: Jeff Robinson
Executive Producer :: Sam Martin
Executive Producer :: Mary Jane Skalski
Executive Producer :: Susan Lewis
Executive Producer :: Ann Bradley
Executive Producer :: Stefan Nowicki
Executive Producer :: Benjamin Weber
Executive Producer :: Joey Carey
Cinematographer :: Bradford Young
Film Editor :: Mako Kamitsuna
Production Design :: Inbal Weinberg
Art Director :: Sara White
Costume Designer :: Eniola Dawodu
Casting :: Eyde Belasco

Kevin Taft is a screenwriter/critic living in Los Angeles with an unnatural attachment to 'Star Wars' and the desire to be adopted by Steven Spielberg.
Comments on Facebook