Skyfall
The updated blonde Bond is back! This time our dapper hero played by hunky Daniel Craig returns in the cryptically-titled "Skyfall" to fight a fey blonde bad-guy named Silva (Javier Bardem). But first, there's lot of set-up. In the wham-bam opening sequence that is stupendously awesome, Bond is trying to retrieve a "list" of all of the agents at MI6 that has fallen into the wrong hands. Clearly, this will spell certain doom for the agency and the loss of many lives. Unfortunately, not only does he not get this list, but also he is "fatally" shot in the process.

Months later, we reconnect with Bond who is living on an island in a constant haze of alcohol and exotic women. But when MI6 is attacked and agents are killed, he returns home to confront M (Judi Dench) for calling the shot that "ended" his life. Although not at the top of his physical game, Bond is let back in the force and he goes about trying to find the person who is in possession of the infamous list. He will go through a number of people and dangerous situations to find out who this is and he will only meet him an hour into the film.
At that point, the tete-a-tete begins and the good guy/bad guy dynamic is established. You see, Silva used to be what Bond is now - an agent at MI6 who was also one of M's favorites. But a decision she made put him into such a traumatic situation he was left permanently disabled and scarred. (There is a reason his face looks so strange.) So simply enough, this guy is pissed.

The plot of this Bond installment really is that simple, which to be honest is a relief from the overstuffed "Quantum of Solace" that just became a mind-numbing head-scratcher. Here, director Sam Mendes ("American Beauty") focuses on the relationships of the characters and takes his time establishing the plot rather than simply jumping from action sequence to action sequence. This is one of the best things about "Skyfall," because the result is that you care about the people. Not only that, it's great to have M front and center rather than the usual cameo.
Bardem's villain is a strange one. I think he is bisexual because he has a playful moment with Bond who is tied up at the time. While I was a bit annoyed at first (yet another "gay villain"), Bond's response to his advances is classic. Oh the possibilities!

The film is gorgeous with the infallible Roger Deakins at the helm of cinematography. The leads are all terrific, with the only flaws being the two Bond girls. Naoimie Harris ("Pirates of the Carribean 2" & "3") is okay, but when she throws aside her one-liners, they fall flat. Berenice Marlohe as Severine struggles with the English language making her scenes with Bond a bit painful to get through.

But Bond wouldn't be Bond without great stunts and set pieces. The opening, as stated, is tremendously executed and non-stop fun. Mendes does a great job throughout the film of allowing us to actually see the action and the fight choreography without masking it with overdone editing. As a result it puts the focus on the amazing stunt work where it should be. The problem, however, is that nothing after the opening ten minutes comes close to them in impact.
There are some requisite chases and hand to hand combat, as well as a tacked on subway crash and a nifty elevator ride, but nothing that significant. Even the finale - which to be fair looks damn beautiful - is more of a western than a Bond film. In fact, there are only two (mild) gadgets in this film, so the end is very old school with guns, knives, and booby traps. While it was interesting to have this change of pace, I was still left with wanting something to top the opener. It never came.

Still, "Skyfall" succeeds on so many levels that I look forward to more Craig (shirtless please) and I hope they keep Mendes on as director. They just need a script that includes a bit more over-the-top action to keep Bond fans satisfied. Otherwise, judging by the last installment, Tom Cruise's Ethan Hunt might take that crown.
Skyfall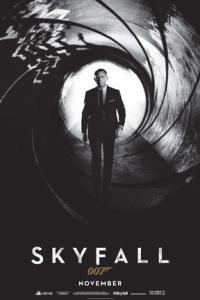 When James Bond's (Daniel Craig) latest assignment goes terribly wrong, it leads to a calamitous turn of events: Undercover agents around the world are exposed, and MI6 is attacked, forcing M (Judi Dench) to relocate the agency. With MI6 now compromised inside and out, M turns to the one man she can trust: Bond. Aided only by a field agent (Naomie Harris), Bond takes to the shadows and follows a trail to Silva (Javier Bardem), a man from M's past who wants to settle an old score.
Info
Runtime :: 143 mins
Release Date :: Nov 09, 2012
Language :: Silent
Country :: United Kingdom

Cast
James Bond :: Daniel Craig
M :: Judi Dench
Silva :: Javier Bardem
Gareth Mallory :: Ralph Fiennes
Eve :: Naomie Harris
Sévérine :: Bérénice Marlohe
Q :: Ben Whishaw
Kincade :: Albert Finney
Bill Tanner :: Rory Kinnear
Patrice :: Ola Rapace
Clair Dowar :: Helen McCrory
Dr. Hall :: Nicholas Woodeson
Ronson :: Bill Buckhurst
Vanessa :: Elize du Toit

Crew
Director :: Sam Mendes
Screenwriter :: Neal Purvis
Screenwriter :: Robert Wade
Screenwriter :: John Logan
Producer :: Michael Wilson
Producer :: Barbara Broccoli
Executive Producer :: Callum McDougall
Cinematographer :: Roger Deakins
Production Design :: Dennis Gassner
Film Editor :: Stuart Baird
Original Music :: Thomas Newman
Costume Designer :: Jany Temime
Casting :: Debbie McWilliams
Supervising Art Direction :: Chris Lowe
Set Decoration :: Anna Pinnock
Stunts :: Paul Weston

Kevin Taft is a screenwriter/critic living in Los Angeles with an unnatural attachment to 'Star Wars' and the desire to be adopted by Steven Spielberg.
Comments on Facebook